Synopsis
Narrowly escaping her volatile ex-husband, Yella flees her small hometown in former East Germany for a new life in the West. She finds a promising job with Philipp, a handsome business executive with whom an unlikely romance soon blossoms. But just as Yella seems poised to realize her dreams, she finds herself haunted by buried truths that threaten to destroy her newfound happiness.
Film Credits
Producer:
Caroline von Senden
Florian Koerner von Gustorf
Michael Weber
Andreas Schreitmüller
Writer:
Christian Petzold
Simone Baer
Starring:
Hinnerk Schönemann
Nina Hoss
Wanja Mues
Barbara Auer
Devid Striesow
Burghart Klaußner
More Information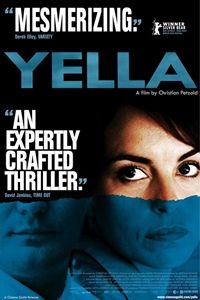 Rating:
12A
Suitable for 12 years and over
Films classified 12A and video works classified 12 contain material that is not generally suitable for children aged under 12. No one younger than 12 may see a 12A film in a cinema unless accompanied by an adult. Adults planning to take a child under 12 to view a 12A film should consider whether the film is suitable for that child. To help them decide, we recommend that they check the Ratings info for that film in advance. No one younger than 12 may rent or buy a 12 rated video work.
Released:
16 February 2008
Genres:
Drama
Romance
Suspense/Thriller