4615
Who Am I - Kein System ist sicher
Synopsis
Benjamin, a young German computer whiz, is invited to join a subversive hacker group that wants to be noticed on the world's stage.
Film Credits
Producer:
Quirin Berg
Max Wiedemann
Writer:
Jantje Friese
Baran bo Odar
Starring:
Antoine Monot Jr.
Elyas M'Barek
Tom Schilling
Wotan Wilke Möhring
Antoine Monot jr.
Hannah Herzsprung
More Information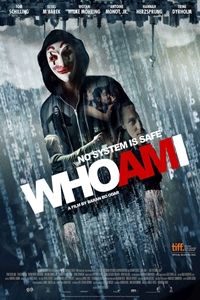 Rating:
15
Suitable only for 15 years and over
No one younger than 15 may see a 15 film in a cinema. No one younger than 15 may rent or buy a 15 rated video work.
Advisory:
strong language, drug use
Language:
English, German
Released:
29 September 2014
Genres:
Suspense/Thriller
Who Am I - Kein System ist sicher