Synopsis
On a mission headed to Mars, an unintended stowaway accidentally causes severe damage to the spaceship's life support systems. Facing dwindling resources and a potentially fatal outcome, the crew is forced to make an impossible decision.
Film Credits
Producer:
Clay Pecorin
Nick Spicer
Aram Tertzakian
Starring:
Jonas Katzenst
Clay Pecorin
Anna Kendrick
Nick Spicer
Ulrich Schwarz
Shamier Anderson
Aram Tertzakian
Toni Collette
Maximilian Leo
Daniel Dae Kim
More Information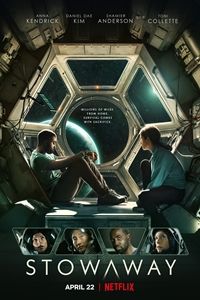 Rating:
12
Suitable for 12 years and over
Films classified 12A and video works classified 12 contain material that is not generally suitable for children aged under 12. No one younger than 12 may see a 12A film in a cinema unless accompanied by an adult. Adults planning to take a child under 12 to view a 12A film should consider whether the film is suitable for that child. To help them decide, we recommend that they check the Ratings info for that film in advance. No one younger than 12 may rent or buy a 12 rated video work.
Country:
United States, Germany
Genres:
Drama
SciFi/Fantasy
Suspense/Thriller