308101
Maya the Bee 3: The Golden Orb
Synopsis
When Maya, a headstrong little bee, and her best friend Willi, rescue an ant princess they find themselves in the middle of an epic bug battle that will take them to strange new worlds and test their friendship to its limits.
Film Credits
Director:
Alexs Stadermann
Noel Cleary
Writer:
Adrian Bickenbach
Fin Edquist
More Information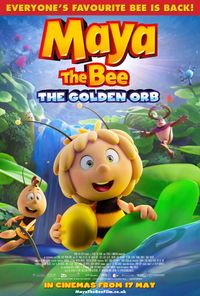 Rating:
U
Universal - Suitable for all
A U film should be suitable for audiences aged four years and over, although it is impossible to predict what might upset any particular child. U films should be set within a positive framework and should offer reassuring counterbalances to any violence, threat or horror. If a work is particularly suitable for pre-school children, this will be indicated in the BBFCinsight.
Country:
Australia, Germany
Genres:
Action/Adventure
Animation
Family
Maya the Bee 3: The Golden Orb