Synopsis
A biopic of influential German-Jewish philosopher and political theorist Hannah Arendt. Arendt's reporting on the 1961 trial of ex-Nazi Adolf Eichmann in The New Yorker-controversial both for her portrayal of Eichmann and the Jewish councils-introduced her now-famous concept of the "Banality of Evil." Using footage from the actual Eichmann trial and weaving a narrative that spans three countries, the film beautifully turns the often invisible passion for thought into immersive, dramatic cinema.
Film Credits
Producer:
Bettina Brokemper
Johannes Rexin
Writer:
Margarethe Von Trotta
Pamela Katz
Pam Katz
Starring:
Axel Milberg
Janet McTeer
Julia Jentsch
Nicholas Woodeson
Ulrich Noethen
Barbara Sukowa
More Information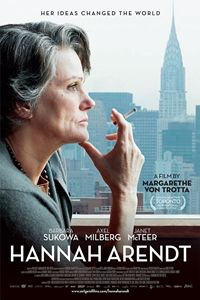 Rating:
12A
Suitable for 12 years and over
Films classified 12A and video works classified 12 contain material that is not generally suitable for children aged under 12. No one younger than 12 may see a 12A film in a cinema unless accompanied by an adult. Adults planning to take a child under 12 to view a 12A film should consider whether the film is suitable for that child. To help them decide, we recommend that they check the Ratings info for that film in advance. No one younger than 12 may rent or buy a 12 rated video work.
Country:
Luxembourg, France, Germany, Israel
Language:
English, French, German, Hebrew, Latin