332963
Every Breath You Take
Synopsis
'Every Breath You Take' is a searing psychological thriller about a psychiatrist (Casey Affleck), whose career is thrown into jeopardy when his patient takes her own life. When he invites his patient's surviving brother (Sam Claflin) into his home to meet his wife (Michelle Monaghan) and daughter, his family life is suddenly torn apart.
Film Credits
Producer:
Richard Barton Lewis
Veronica Ferres
Writer:
Richard Barton Lewis
Gabrielle Jerou
David Murray
Starring:
India Eisley
Jon Levin
Morgan Emmery
Casey Affleck
Michelle Monaghan
Sam Claflin
Frank Buchs
Emily Alyn Lind
Jean-Charles Levy
Veronica Ferres
More Information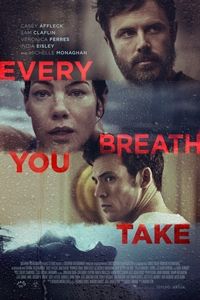 Rating:
R
Restricted. Children Under 17 Require Accompanying Parent or Adult Guardian.
An R-rated motion picture, in the view of the Rating Board, contains some adult material. An R-rated motion picture may include adult themes, adult activity, hard language, intense or persistent violence, sexually-oriented nudity, drug abuse or other elements, so that parents are counseled to take this rating very seriously. Children under 17 are not allowed to attend R-rated motion pictures unaccompanied by a parent or adult guardian. Parents are strongly urged to find out more about R-rated motion pictures in determining their suitability for their children. Generally, it is not appropriate for parents to bring their young children with them to R-rated motion pictures.
Country:
United States, Germany
Genres:
Suspense/Thriller