Synopsis
East Germany, 1980. Barbara Wolff is a young doctor who has applied for an exit visa from the GDR and, as punishment, has been transferred from her prestigious post in Berlin to a small pediatric hospital in the country. She must weigh her absolute dedication to her patients against a potential escape to the West, and her newfound attraction to a doctor in whom she sees a kindred spirit.
Film Credits
Producer:
Anne Even
Florian Koerner von Gustorf
Michael Weber
Starring:
Mark Waschke
Ronald Zehrfeld
Jasna Fritzi Bauer
Nina Hoss
Rainer Bock
More Information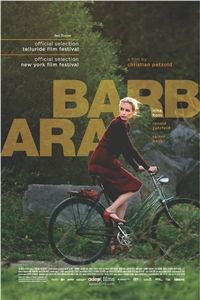 Rating:
12A
Suitable for 12 years and over
Films classified 12A and video works classified 12 contain material that is not generally suitable for children aged under 12. No one younger than 12 may see a 12A film in a cinema unless accompanied by an adult. Adults planning to take a child under 12 to view a 12A film should consider whether the film is suitable for that child. To help them decide, we recommend that they check the Ratings info for that film in advance. No one younger than 12 may rent or buy a 12 rated video work.